SENIOR citizens now facing old seat belt CLICHé
We all have a responsibility to make it clear to our family and friends that grab bars are not an option, they are a mandatory device for preserving independence. (ASA)
Approximately 30,000 adults over the age of 65 years old died as the result of a fall in the home. (CDC)
Okay, warning heeded! "Now, what can I do? How do i prevent these falls?" "how/where are grab bars installed?"
Typically, grab bars are "installed around or in the shower/bathtub [but not always] to give users needed support. In addition, grab bars will help the elderly maintain balance and lessen fatigue when they are in a standing position. With handicap grab bars for bathroom, stepping in and out will be a whole lot easier and much safer."
Types Of Bathroom Grab Bars [Note: That These Bars Can Also Be Used In Other Areas Of The Home]? (James Leber ↓)
As the name itself suggests, this shower grab bar is straight and can be installed to the wall, anywhere in the bathroom. Since these bars are fixed to the wall, they offer outstanding support which makes them perfect for people with stability issues.
This type of bathtub support bars is ideal for maximizing the safety of the seniors and handicap people. Since this bar is bent at an angle, it can be installed in a wet area, as it will give a secure grip to the user, while also allowing more flexibility as far as the geometry of the bathroom and shower is concerned.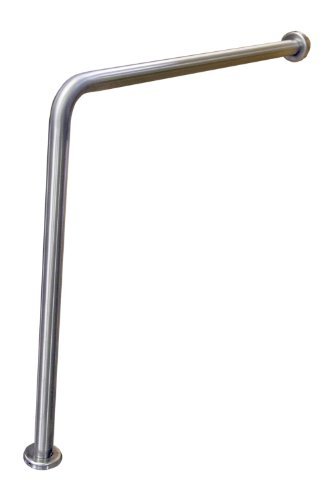 As you can imagine, this grab bar is fixed to the wall and the floor and offers a great deal of stability. It's usually installed next to the toilet and some models come with a second small support leg, to provide even more support.
Not only does this type offers additional safety and firmness but it also adds a modern touch to a bathroom. There is a plethora of colors, sizes, and shapes to choose from.
choosing the best grab bar in the bathroom:
Evaluating the size of your bathroom/shower and your needs
The first step is to determine where you need to place a grab bar. In other words, just sit on a toilet — and try to get up, in order to find out if you need to install toilet handicap bars. Similarly, step into the shower and see whether or not you will need additional balance and support when in the shower.
Size
Another step is to pick the perfect size and handicap grab bar height. Shower grab bars come in different lengths, from 18 inches to 48, so you will easily find the ideal one for your bathroom.
In addition, you should think about the diameter. If someone in your family suffers from arthritis or simply has weak arms, you probably want to buy a grab bar with a small diameter.
Material and color
When it comes to the material, bathtub safety bar can be made of nylon, stainless steel, plastic, etc. Of course, stainless steel grab bars are most durable and are very secure. However, you can opt for any type, as long as it comes with a brushed or textured coating/finish, to provide you with a better grip.
As for the color, it's best to choose the one that is different from the wall and tiles color, so that you and your family can notice it more easily. (James Leber)
Example:
"how should I go about installing these grab bars?"
Good question, let's take a look:
"Ideally you would want to install the grab bars onto wood studs, whether there is tile or not. However, most grab bars are not sized to precisely span the standard 16" center-to-center spacing of wall studs. Some installers will purchase longer bars... 18" or 24"... and install them at an angle so that each end aligns with a stud. However, all homeowners do not want this "askew" installation.

Using toggle bolts, the folding fasteners commonly used on drywall... or, WingIts, are an acceptable alternative for one or both ends — you do not need to use toggles or WingIts in every hole... two per side (top and bottom holes) is more than adequate for most installations. If you can locate the studs (sometimes difficult through ceramic tile, even with a "stud finder"), try to attach at least one end of the grab bar to a stud.

(NOTE: Though toggles and WingIts can hold hundreds of pounds, they obviously are not as strong as mounting the bar into solid wood. However, mounting in wood might require extensive carpentry and tile work, in some situations, to add the necessary supports within the wall. The expected use of the grab bar is critical in determining whether such an installation is necessary." (GA Ventures)
Hardware Examples (wingits featured on top, toggle bolt featured on the bottom):
At No Place Like Home Remodeling we certainly empathize with you, yes it's a lot of information to take in, along with all your added stress about discovering you need grab bars in the first place. Now, know this, we're here to help, we're here to breakdown all this information in person and make the step of buying and installing grab bars painless and easy.
Some Of Our installations (Interior And Exterior):
Don't wait any longer — contact us today, start living with ease again! You're only one grab bar away from feeling that safety and security!